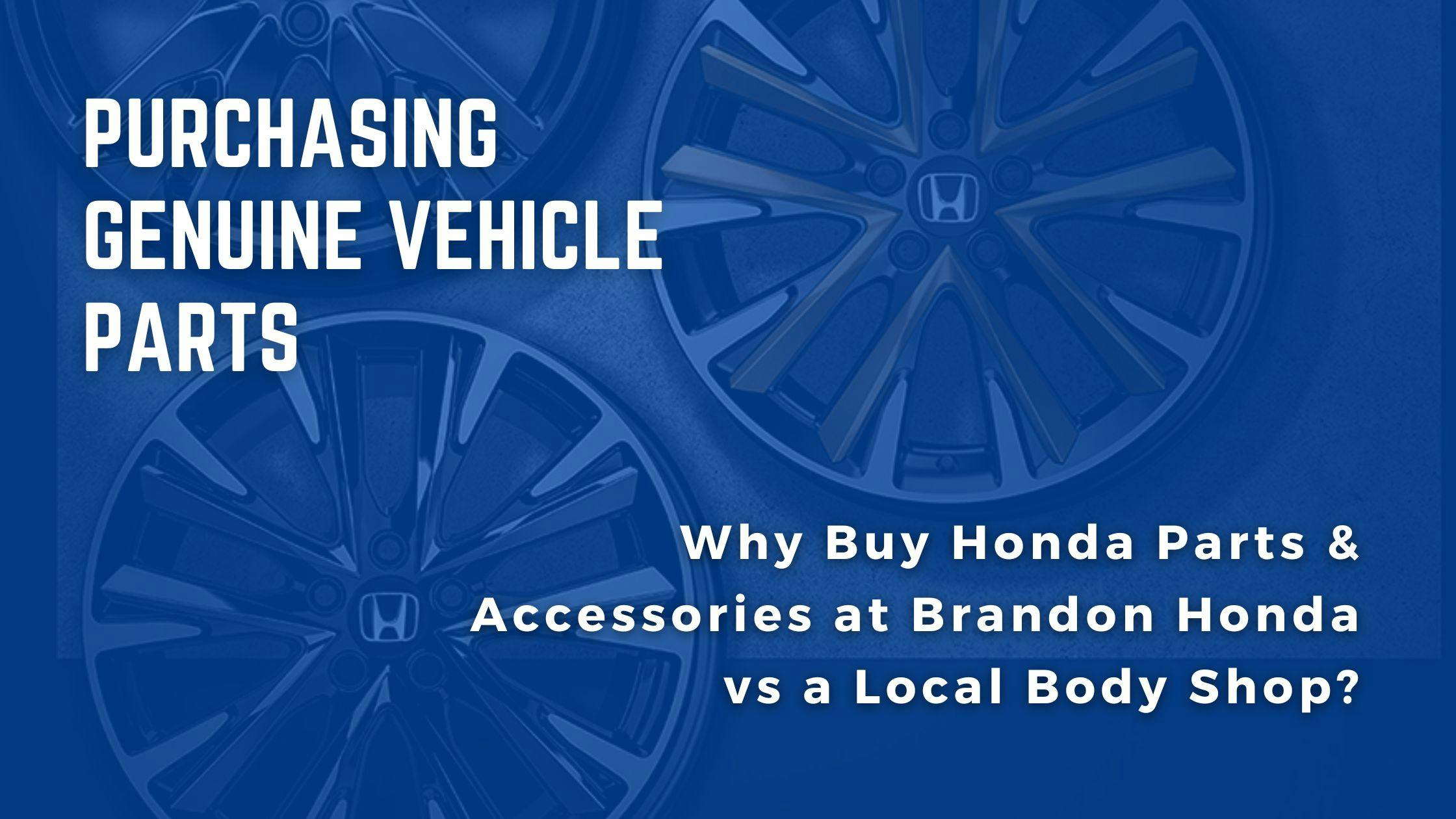 Purchasing Genuine Honda Accessories at Brandon Honda vs a Local Auto Shop
At Brandon Honda, we stress the importance of purchasing Genuine Honda Accessories from a reliable Honda dealer, such as our own vs a non-Honda, local auto shop in Tampa, FL. Our team of Brandon Honda experts have put together our top 3 reasons why you should purchasing your Honda accessories, parts, and scheduled maintenance is best, here at Brandon Honda.
What's Special About Buying Genuine Honda Accessories at Brandon Honda?
Top-Quality Honda Accessories & Parts
Ordering Honda accessories from our certified dealership ensures the longevity and quality of your vehicle. Genuine Honda-Certified Parts & Accessories that our Honda service center technicians instal are specially designed and manufactured to meet any Honda vehicle's exact specifications as well as standards.
This type of quality can only be ensured from a Honda-Certified dealer such as our's in Florida. When you service through Brandon Honda, it ensures the parts and accessories can will fit just right, and function properly on your vehicle.
Our Brandon Honda genuine accessories are designed to be fully compatible with the specific make, model, and year of your Honda vehicle, ensuring that they will work seamlessly with your vehicle's systems and features.
Enhanced Safety Assurance
Genuine Honda accessories come with a factory warranty, which means that if there is any issue with the Honda product you purchase at our Florida based dealership, it will be covered by our Honda warranty. This type of specific Honda warranty cannot be offered with the same assurance at just any local auto body shop.
Some accessories like roof racks, bike racks and cargo trays, can affect the vehicle's safety features like airbags, sensors, etc. Using genuine Honda accessories can ensure that these safety features will not be compromised.
Unbeatable Brandon Honda Customer Assistance
Honda dealerships such as our own in Tampa, have Honda- trained professionals who can answer any questions you may have about the accessory product and assist are eager to you with the installation if needed.
On the other hand, buying car accessories from a local auto shop may not come with the same level of quality, compatibility and warranty, which can lead to potential issues with the vehicle's performance and safety. It is important to note that using non-genuine accessories can also void the vehicle's warranty.
Visit the Brandon Honda Service Center
Get help with your scheduled vehicle maintenance, order Honda parts or speak to a Brandon Honda expert on whatever assistance you need on your vehicle, today. Our Tampa dealership is excited to leverage our years of automotive experience with a Honda professional staff to ensure that your vehicle is ready to come out of our FL service center looking better than ever!
Back to Parent Page